Any of you who are looking for reliable and affordable headlamps? Or torchlight or personal flashlight? I just got myself a Photon Freedom Micro (RM64) and Photon Freedom Fusion (RM120). Yup, Photon lights are available in Malaysia now. The Photon Freedom Micro review came out in Malaysia's T3 March 2010 issue.

Copied this from MyPhotonLight.com
The easiest-to-use, most powerful, full-featured LED micro-light available with Intuitive, Intelligent Programming!
Ready for any daily need or emergency, the new Photon Freedom Micro personal flashlight features simple, intuitive single-button operation to provide quick, easy access to the features you use most, with additional mode settings available only when you need them. "Smart circuit" technology gives you the light you need, when you need it.
Some of the kick ass features.
Simple & intuitive single-button operation
Easy operation even with gloves.
Instant full power on/off at any time
Full range brightness control.
4 Safety modes: Slow – Medium – Fast – SOS.
Signal / Morse Code mode (Also useful to prevent accidental turn-on)
FREE Accessories! (a $4.95 value) — Photon Necklace & Photon Hands-Free Clip included with every Freedom Micro LED flashlight.
Water Resistant — The most water resistant Photon Micro-Light yet.
Virtually Indestructible.
Micro-Size & Weight
Brightest LED's Available
Up to 10 different LED flashlight beam colors including specialty UV & IR beams.
Guaranteed – If your Freedom Micro LED flashlight ever fails for any reason other than abuse or battery expiration, return it for a free repair or replacement.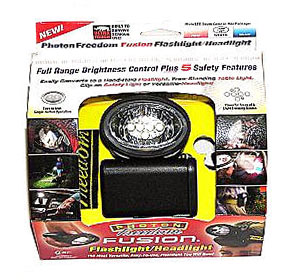 Well currently I have a Energizer headlamp which cost me around RM40. The Freedom Fusion is RM120 but it's way way better in terms of built and function. Those of you who have crazy expensive ones from Black Diamond or any other brand can check and compare.
The Photon Freedom Fusion is a flashlight, headlamp, table light, clip-on safety light, or even a bike light. Yes it can transform. 😀
Here are some features for those who want to get something that is value for money yet kick bloody ass.
Smart Circuit: Instant on/off – full range, up & down brightness control
Easy to use – single button operation
Weight: approx. 103.6 grams w/out batteries (or 176.6 grams w/ 3 AA Alkaline batteries)
4 Safety Beacons including SOS, Morse Code
Smash Protection
8 Unbreakable LEDs
Professional quality stainless steel index plates with ball bearings for stable directional lighting
Durable Xenoy(R) by GE, body – incredibly tough and completely chemical resistant.
Easy Battery Change
Water Resistant
Long Life Replaceable 3-AA Energizer Batteries included
Water resistant Nylon carrying bag with closure lock
Available in 3 beam colors: (Primary / Secondary) White Fusion: 6 White / 2 Red, Blue Fusion: 6 Blue / 2 Red and Red Fusion: 6 Red / 2 Yellow
Maximum brightness all the way to the end
Check out the detail review of Photon Freedom Fusion on The Gadgeteer. For product info, check out MyPhotonLight.com. Freaking awesome I tell you. Can't wait to try it outdoors. Any camping trips or hikes coming up?
Oh and if it helps, they are all Made in the U.S.A. If any of you campers/hikers/climbers are interested, let me know. Leave a comment and I will get back to you. IMHO, Maglite can suck this.
Did I mention to you that their products are used by NASA shuttle crews, US Military the US Secret Service?