Getting out my camera and snapping around was something that I very seldom do. More so, when approaching total strangers or not-so-strangers to pose for you. Last Saturday, when I attended the BlogMob event, I kind of agreed to get out of my comfort zone, that being a bit shy and avoiding attention. The phone itself had generated quite amount of buzz lately, with the huge billboards, tv and radio ads, press ads and roadshows too. Guess the people in Samsung are really working their butts off. Having meeting them personally and seeing all the work they put in, *pat pat* *nod nod*
Let me roll out the photos first as I have to get all my pictures out before this Friday. My brother and YF will be flying to Taiwan and I promised to borrow them my camera. Mmm… how am I going to take some photos of me showing people the i450? Nah… it will work itself out. Let's hope that they bring me back something nice from Taiwan. Haha… Joking… but you guys better find someone for me to take pictures with.
Some of you might not understand what I am proposing to you online. So I am showing you examples of what I need you to do when I meet or do not meet any of you. Here goes. I missed out the first person that I showed it to. Will get him to pose for a photo soon.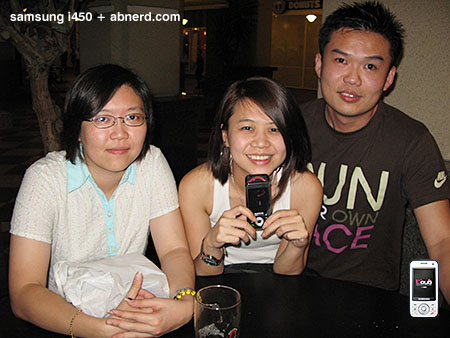 First night. Had some German beer before we took photos.


My friends at the climbing gym. Did I mention only a portion of climbers?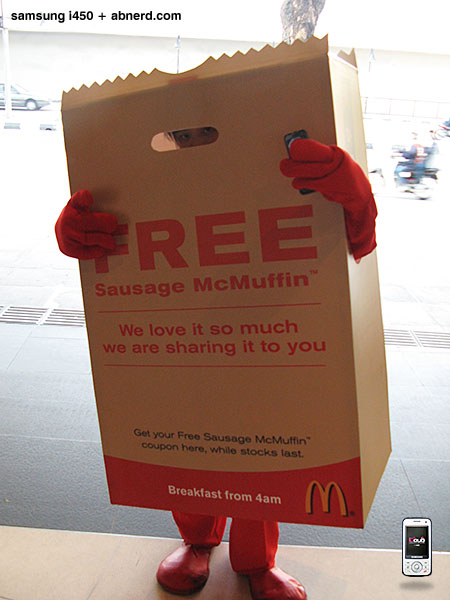 This is my current favorite. Poor fellow was a bit blur when I approached him to ask for a photo. Was worried that the phone will slip off his hands too, because his glove was too big for him. What a start.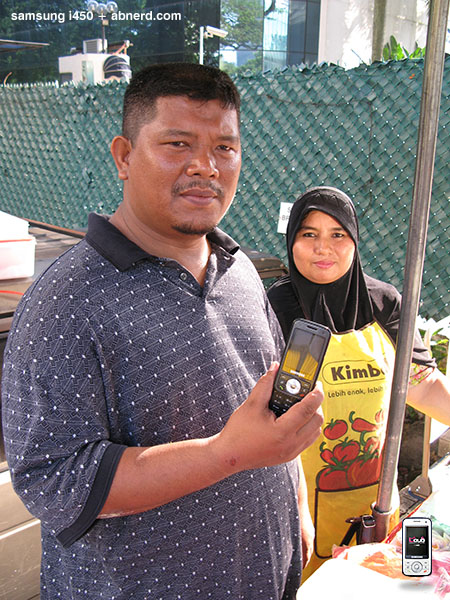 My favorite nasi lemak seller. They are friendly and nice. And their nasi lemak… power. I could eat them for the whole week. I got them to pose for me because by 8.40am they were already sold out and nothing left for me to eat. Hence they were free, so got them to model.
Click more to kill bandwidth.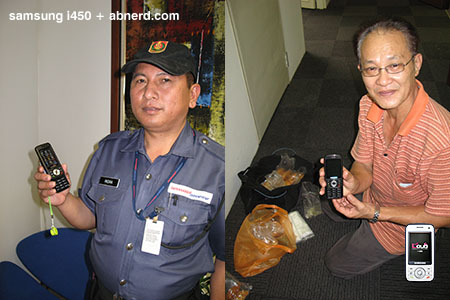 Nepalese security guard. Told me he was a trained commando and the training was hell. Having to jump into water at about 100ft and all. I just listened. Sometimes his pronunciations was inaudible. Had a nice long chat. He even wanted to get his beret on. Kept adjusting collar, lanyard and name tag. Hehe.
The other uncle, sells very very nice curry puff and donut filled with tuna/fish fillet stuff. Only comes on Wednesday. And yeah, I would get them although I had nasi lemak for breakfast. Will blog about these too.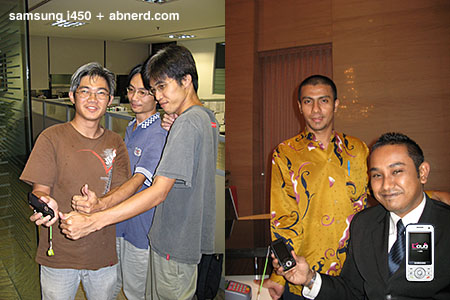 They just finished working on some interior work. I like their goofiness.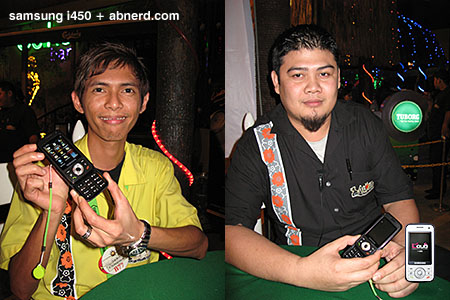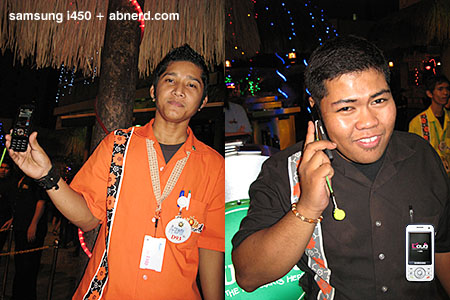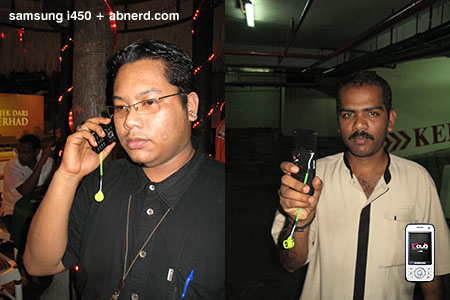 Was at the night spot for dinner. Can you tell where it was? Hehe…
So far my phone has been molested by 35 person. With evidence. Those without… I will get to you soon.
Oh… I actually approached two police officers stationed in the LRT station last night. It was the last train and I was the second last to get out. I hesitated for a while before going back and asking them whether I could have them pose for me. Haha… guess that they did not want to. They said it was late and all. Wonder why. Maybe it was because of my stuttering and being a bit red faced. Was having some alcohol in my system had something to do with it? I think I kinda look blur that time too. *wave it off*
Which one of you have 3G phones? Can I call you? It's fun la. Although the resolution is a bit… off.