I filled myself to the brim last Saturday. Well nearly.
Met up with Food4Thot for some Ah Sang Ba Kut Teh around Kelana Jaya area. Let's wait for her review on this place. Will linked it up if she does. I find it to be nice… with heavy herbs taste and Food4Thot liked the pig's tummy most and her well trained buds tells her that those delicious slices of meat has gone through some pepper bath before ending up in a nicely simmered pot of claypot ba kut teh. I had two bowls of rice for my breakfast and a full tummy on a grey bleak morning does wonders. As we were enjoying this, a freak accident happened to an eight legged creature. Bless its soul.
Then hung around NZX for a while, checking the newly opened outlets… most of it being eateries. The Holly Coffee place seems decent. I could go there for my morning cuppa tea and hooked on to some Wifi and read a book. 2 hours should suffice and put me in a good mood for the day. It's already in my coming to-do-list. SC insisted that I give Big Apple's Durian infused donut a try. Since she is buying… naturally I did. I never reject free food. If I was a mouse, my life span would be so short. Managed to borrow 2 new books from her, Along Came A Spider by James Patterson and Socrates In Love by Kyoichi Katayama, my first Japanese translated book. Prepare for some different style of story telling, I was told. Oh and I finally finished The Little Prince. Go get it and read. It's quite a read though it's short. I mean the story not the prince with golden wheat hair. I left the place after gobbling the spiky doughnut. My burp smells of durian.
And the event of the day was the baking session once again after such a long interval. I was late so I was not eligible for any poser photos during the process. Hence I skipped all the photos of all of them and decided to post only what comes out of the oven. Ha… ha… ha…
First one to pop fresh out of the oven.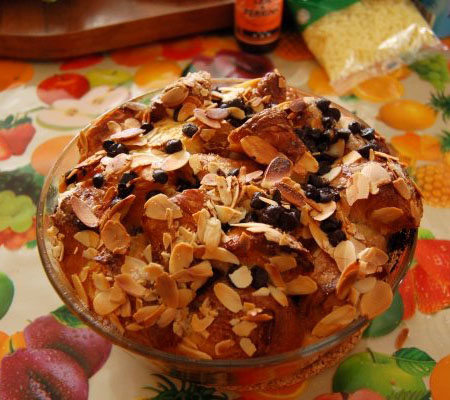 The Bread Butter Pudding. The crust is goooooooood. I only have a few bites. Was bullied into submission… had to eat a lot of the squishy part. Never let them serve me again. Hahaha…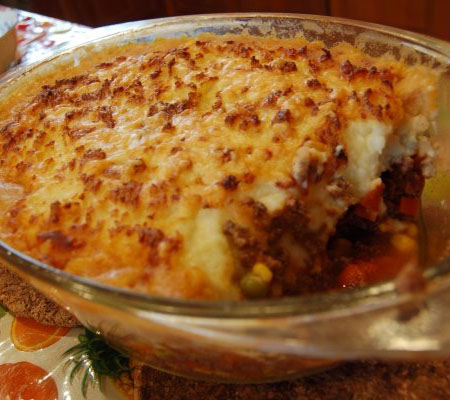 The layered Shepherd Pie. Topped with cheese on top of an inch of mashed potato+onion+cheese on mixed vegetable and minced beef. Pardon the photo. It got attacked before they got a nice shot of it.
Made me skipped dinner. But had supper instead with my brother and friends. Slept early because the next day is a Sunday. And instead of joining the protest in red tshirts I went for the rocks. I had to officiate my new Evolve Defy. My third pair of climbing shoes.
Driven to climb more by the new acquisition, I did 6 routes at Nanyang Wall, Batu Caves. I led a 6A+ and did the Indecision 6B again but failed to redpoint it. It was good though. I only stopped to rest at the second last bolt. At the crux. Jammed my fingers till I tore my skin. No bloody scene, no worries. The other 4 routes was all top rope. A 6A, Lost Monkey 6C+, Old Shoes Beware 6C+ and Go To Hell 7A. Lost Monkey is considerably easy with loads of juggy handholds, the crux is the 3rd – 2nd last bolt area… a roof. With proper footwork and enough power and endurance it will be easy peasy. I think I will fall on that when I lead it. No doubt about it. Deep breath. It should be hell of a rush. The only climb that has been haunting me for the last 2 days is the Old Shoe Beware. I got my new shoes strapped on so I had won a quarter of the battle right? Fat hope. Anyway I kind of figured the move at the crux part. Left crimp, right hand over head crimp with a high step and a hard hard push on the right. Jam the fingers in the hole and go up… while stabilizing myself. Clip and exhale. That scene has been playing several times a day now and I am aching to get it over with. But alas, I would have to wait for 10 more days or so for I won't be going outdoors this week. It's resting time.