Tantrums were thrown. Countless nagging and stalking in the comment area. Every visit to her blog is a nightmare with the black mass staring straight at me… like lasers burning holes right at the back of my skull. Finally I succumbed to it's demands. Like a slave obeying the cracking of the whip on the already puss filled broken skin rather than the master.
I screwed up the first page. I lacked the confidence and the skill. I sloughed on… focusing on getting it out on pen and paper… breaking away from the shitty mindset.
Yes as dramatic as I can be… I was only about to start a doodle for Qiqi. It's hard to start. When I finished with the head… my palms were a bit sweaty. Had to stop for a while before continuing. But as soon as the engine warmed up… I just cruised around 30kmph… nothing fast and furious… just like an late afternoon/early evening drive with the windows down.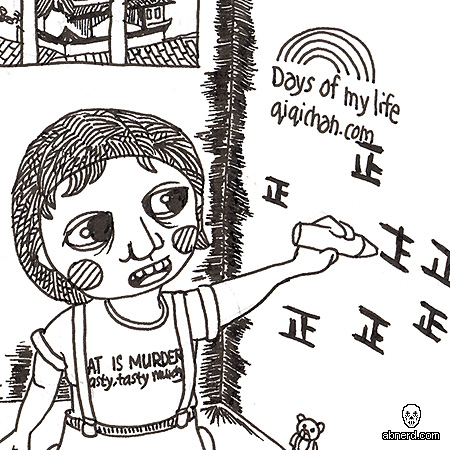 Now I have some coloring left to do. Am trying to keep it as raw as possible. I am glad that she likes it. My one and only fan. How nice. I enjoyed doing it sis… thanks.
It has some meaning behind it… something I try to inject into my doodles if possible.
This is the black mass I was referring to.