I have been wanting to go and try conquering Mt. Kinabalu for a few years now. Listened to stories told by friends and most of them are of beautiful greens and captivating sunrise. How excited I am now… to have found another alternative route that leads up to the summit. It's going through the Iron Road / Via Ferrata up to Mount Kinabalu.
What the crap is Via Ferrata?
Via ferrata, or iron road, is a mountaineering sport that originated in Italy during World War 1. It is a mountain route equipped with fixed rungs, rails, cables, stemples (crossbars and supports), ladders and bridges.
It makes otherwise isolated routes accessible to people with a wide range of climbing abilities. The sport is popular all over Europe.
Mount Kinabalu's via ferrata is the highest in the world, starting at 3,200 metres and ending at 3,800m above sea level. The next highest is in Italy, ending at 3,600m.
Statement by Tok, an experienced rock climber of 20 years.
"Doing the via ferrata route, a climber will experience the mountain through the eyes of a rock climber. The views, the terrain and the experience is unrivalled."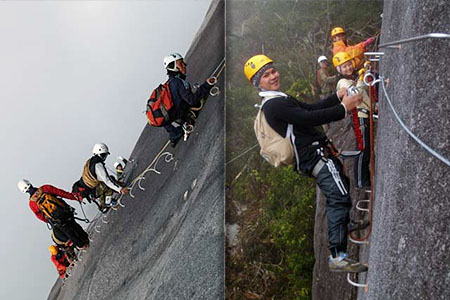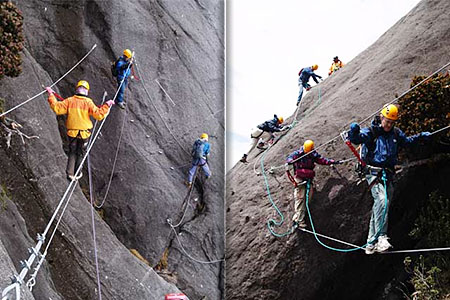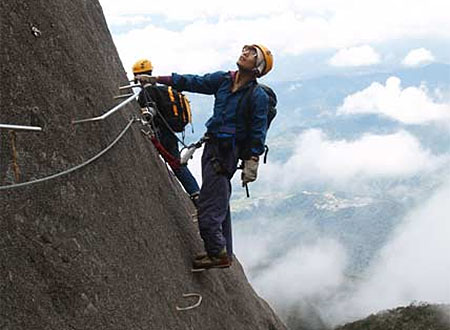 Fuuuuuuuuuuuh…..
I am so psyched about this thing that my feet can't stop shaking. I went through the gallery and hell, it looks damn inviting. Am sure a lot of my fellow climbers will be damn interested to have a go at this. I want to take The Low's Peak Circuit route. Ale! Ale!
The Low's Peak Circuit
Hike up to Low's Peak, Mt Kinabalu's highest point at 4,095m. On descent, take a via ferrata detour to see stunning views and explore hidden corners of the mountain plateau.
Who is it for?
Physically demanding, for those who are sure-footed, not fearful of heights, want to scale Southeast Asia's highest point and the World's highest via ferrata.
Grading : Intermediate – Everyone between 10 to 70
Duration : 4 – 6hrs over 2 days (Walk the Torq included)

One can also do some sport climbing at the roof of Borneo.
I think I have to start saving up for my Via Ferrata fund. Seeing the picture really does get my adrenaline going. And it sucks that I won't be climbing this week, one – my unlimited pass has expired, two – I am going to Ipoh for a wedding this weekend. Argh…
Bee sent me this info. Thank you for making my jaws drop.
Definitely must-see
Mountain Torq
NST news