Previously known as : I Just Got Stong-ed Part 2
A week has gone and I am still a little tanned. Cuts and scratches healed. Aches gone. More than enough sleep. Over ate too.
Damn… I do miss the short lived days where I have absolutely no communication with the outside world at all. No mobile phones, no computers, no tv, no cars, no air conditioning, no mad crowds, no bright lights… just the simple form of civilization. Though I was not in the very deep jungles but it's good enough.
Let me take you back to the scene where the thick morning fog was still swallowing the railway track below while the sun peeks timidly from behind a curtain of thick woolly clouds. I had just managed to stumble down onto the railroad with the weight of a dead secondary two student behind me. On second thoughts make it an overweight primary five student from Johore.
I had earlier splashed water and wiped off some grogginess in the tiny train washroom before heading to extract my backpack. I was still in a blur daze. I woke up ten minutes before the train stopped at Dabong, a small train station stranded in the outskirts. With lightning speed I repacked my stuff, double checked and put on my shoes. Washed my face, saw the group leaving the train and I followed, and before I left my bunk I flicked the curtain of the guy sleeping opposite of me. The one that I borrowed my carabiner to. Damn I should have gotten it back then and there. He was still doing it slow motion, unpacking and repacking his gears. I mumbled to him that they all got off and I am getting down too. Better hurry. And off I went. It was when I landed on the platform that I saw the two dozen plus people are already there… some posing for photos and others walking up and down the platform checking out the place. I straightened my specs and walked towards the platform while the train picked up momentum.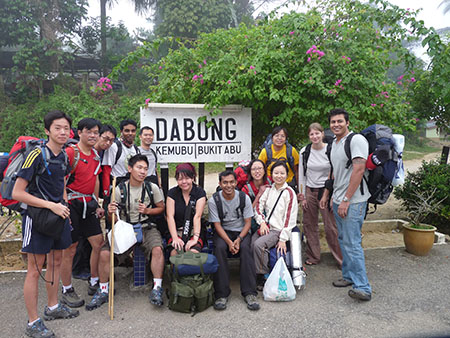 Managed to squeeze myself in for a photo.
Then someone in the group asked where the guy sleeping opposite me was… and they started to run around looking for him. Hell to think that he has a group of friends and they totally forgot about him. Later during the trip, I realized that it was his character to sometimes wander off on his own once in a while. The train has barely left the station before it came to a screeching halt. No one knew what happened. Neither did I. Before long, a few of them was running towards the end of the platform. Then I heard "Someone jumped off the train!". Bloody hell, it appears that my bunk neighbour did an Indiana Jones scene. Shit, let's hope that it does not spoil the party… and with every steps I took, I repeated myself. Shazaam, there he is… lying on the cold dusty concrete… not moving much… a bit bloodied. He cut his finger and scrapped his knees during the non-choreographed one take action scene that Harrisson Ford himself chickened out. It looked bad and everyone crowded around. He sure know how to make an entrance. Everyone there got smacked and that woke them up, instantly. I wanted to ask him then and there about my carabiner but it seemed inhumane. Cold blooded. So I just walked away, and confronted some roti canai instead. After much deliberation I decided to have toast and near raw eggs at the opposite stall. The station master kindly sent our failed action star to the nearest clinic. All's well while my new carabiner just chugged away. Motherfuck. No more borrowing gears to anyone. Get your own. He was lucky that he survived the fall with only minor cuts and bruises. He could very well end up under the metal wheels and that would definitely spoil everyone's appetite for scrambled eggs. Make it dinner as well. Would be a nightmarish ride home witnessing that.
Fortunately, the drama ended there.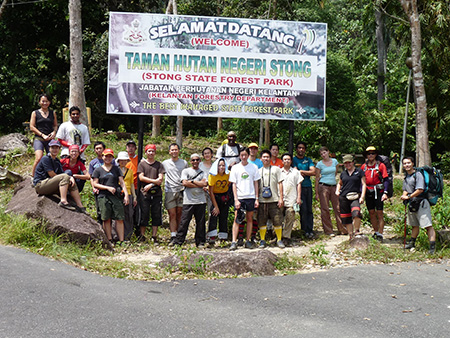 One of them had a tripod setup after this shot but the group just dispersed. Leaving the photographer all alone. It was just too hot to pose for more. For the record, no complete group photo was taken.
What entails are unfamiliar territory of caves, forestry and mountains. Beautiful landscape. But to enjoy it we have to sloughed through unchartered terrain. We ascended with small stone steps which gradually turns into damp loose earth. No, not muddy yet. Performing this feat with a big backpack is a killer. Being my first I tried to sit and conserve my energy while letting a comfortable distance grew between. I find it more stressful when I had to huddled behind them, inching my way. Drains me. The journey to Baha base camp could take less than an hour but we spent a little more time on the mouth of the waterfall. Photo session people. My camera was buried deep inside my bag, so I did not bother. Haha… this happen throughout the trip. I was just lazy, really. The sight and sound of it was mesmerizing. Never had I seen a waterfall this high in person. I reached the base camp beaten. It's certainly no joke to hoist such a weight.
Found my camp buddies and we chose the one nearest to our bags. My mates for the trip, Sean and Jensen. They proved to be good camp buddies and it made my trip more fun. Mark, Julia, Parth and Anu certainly added more flavor no doubt. Our camps were the nearest and reason being that we did not have a particular group made it easier for us to get around. But soon, we got to know everyone better. And since it was still Chinese New Year we gambled and I continued to give money away. Not much though. A few ringgit but the crappiness and jokes that it paid for was worth it. Sorry Say-Li for turning your nice camp into a makeshift gambling den. 😀
Later in the night we adjourned to the edge of the huge waterfall. Not much stars to see though. It was too cloudy. Photo sessions continued and several girls really go all the way out for nice pictures. It scares me and I could see the horror in others too. Nuts I tell you.
The first night officiating my sleeping bag could not be anymore eventful. The floor was cold and hard and a stone embedded at my waist area made matters worse. And how can you call a four man tent when it barely fits three snugly. Ventilation was no good so we decided to have it open concept. Up went the zippers. Much better but the sleeping condition showed no signs of improvement. I tossed and turned and barely slept a wink. The ever gushing of water drowns out all the sound that the jungle has. Flushes away my dreams as well. First night sleep… negative. It did not bring my mood down though. In fact I woke up cheerful and filled with anticipation for what lies ahead. The Stong Peak.