Tomorrow will be a busy day for me.
The Samsung event will be in the evening inclusive of dinner. Ms. B even reminded me not to have anything before I go for the event. Don't worry… I have never in my life had my dinner so early. Haha… ok… that was me trying to be a smartass.
Just set a reminder to get some dough out in order to purchase the Samsung phone that had been placed in my trust for review purpose. Never had I considered getting a Samsung phone but a month with it… and little discoveries here and there, it kind of got me smitten with its features. And the slick design and ability to add in external memory made me like it even more. My old abandoned phone does not have any of it… and though it never crossed my mind to change my SE phone… I used to have this thought that I won't get a new one unless the old one dies on me. Frankly, when I got the Samsung phone, I was still holding on to that belief. It lingered and twirled around for the first two weeks before I start to warm up to the phone. Yeah, the product has got me snared.
And being a trustworthy traveling companion throughout this period, the little fellow has got me quite dependent on him/her. I have yet to ascertain it's gender.
I did try the Adobe PDF function, but the documents that I had were not mobile friendly… all the scrolling and zooming in and out irked me. But one thing for sure, it sure is handy.
I finally found a theme maker that supports most Nokia Symbian S60 but Samsung i450 is not listed in there. I tried downloading a theme made for Samsung i400 | Smile Theme and bluetooth from my lappie to my phone. After installation and voila… it works! Now my phone has a girly inside with a macho outlook. Haha…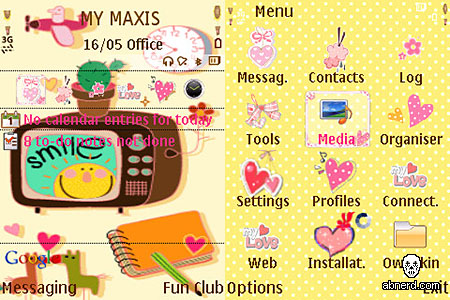 It's an online version though, the search for a stand alone application proved to be an arduous task.
Go check it out at OwnSkin.com
I got myself signed up in just under a minute. The theme maker is in Flash, so make sure you have a good stable connection and latest Flash player. The GUI is straightforward but once again I have yet to really give it a test drive. It has a lot of icons to play around, background to change… in short a helluva customization if one really want to bury themselves inside.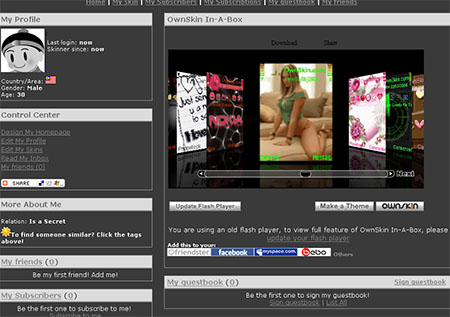 The member lobby. Haha… yes, I purposely did a screenshot with the girl in the center. Looks damn inviting and certainly got some eyes wandering and straining don't it?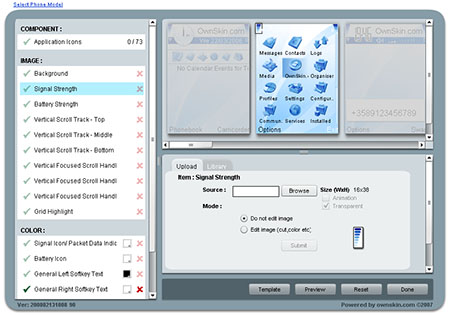 Here is the playground. A lot to meddle with. All the sizes are shown, so if you have some Photoshop skills, it will make things easier for those little icon work. Build your own little pixel world.