Three weeks have gone. The bites from sand flies have already subsided. It's my first time getting attacked by these pest and it really does hurt. The females needed the protein in my blood so that they could make eggs. How comforting is that? I am doing my part in extending their family blood line. I feel noble. Hell I am. I was swatting blindly everywhere. Can't really see them as they are really small. The darkness of the jungle is just perfect. The trees seems to desperately claw at the stars leaving only gaps for the moonlight to penetrate. Barely enough for us to look around the campsite.
I just hated the part where I have to squeeze into the LRT with my backpack. It was already a nightmare to board the train after working hours. Maneuvering itself is hard… let alone with a big bag. Boarding the LRT from KLCC is insane. The people just push and push and so did I because I was rushing to make it to meet the rest. It was during this frenzy that I did not realize that my left thumb got sprained. It hurts. The pain lasted the whole trip.
Everything happened like I somehow expected it would. I have reached the Wangsa Maju LRT station and tip tap tip tap. It started raining. The heavy downpour made me worried as the journey up Cameron took around 4 hours and poor visibility made me a little queasy. The friendly strangers were late. There was some confusion on where to meet but after running up and down a couple of times, everything was sorted out and we are ready to roll. I managed to express my amazement upon the sight of of K's enormous backpack. G's bag wasn't any better. Both was filled to the brim and it pains me to see K shouldering hers. It dwarfed her. Not surprising, for this was their first camping trip. Their usual day trip hikes  prepared them for the hike up but not the packing part. I had my fair share of sloppy packing… or should I say inexperience, that I stuffed things that was unnecessary. Total dead weight. Unused items.
I ditched a lot of stuff this time. Wallet became a plastic ziplock pocket size. Toiletry bag kasi buang jauh jauh. No camera as I would be enjoying the air and water more. Don't want to waste the moments squatting over a small plant. My previous trip also went undocumented. My clothing were only the necessary ones. The only extra I had was one boxer. Bought a cheapo raincoat this time instead of bringing the thick useless heavy jacket. I learned a little from Stong. And no can food, please. Unless it's an easy hike, otherwise leave it at home.
The journey to Kampung Raja in Cameron Highlands was a bit flat > boring . The music selection was a bit dusty I must say. I had to struggle to keep my eyes open on numerous occasion. While the rest in the car played song guessing, I was totally clueless. Although I do recognize one or two tunes and tried to tap my feet along. Movement keeps me awake. I even tried to have senseless conversation. But overall, we did have a couple of good laughs along the way. I think. It's a bit fuzzy now for me to recall.
Saw the rest at Kwan Tee Temple Hall. It was already 1230am. The cold night air nestled me like a long lost adopted son. Our group was already taking up the corners, lying snugly in their sleeping bags. I quickly chose a spot and made my bed for the night. Brushing my teeth made them chatter. The water seems to shake me up, chasing away the sleepiness. Staggered back to the hall which nearly cause me to fall. Another shake up. How to sleep now.
I was thankful I had a sleeping mat, though cheap it did work, for the concrete floor was hard and icy cold. Maybe that was a glimpse of a morgue's slumber party. Without warning or sirens blaring, cars and four wheel drives hummed to a halt. I think the time read 130am. The passengers alighted, all boisterous and ignorant of their surrounding, like they have just hit land, reached the port, after months of traveling in the tongkang. Their numbers were bigger and very quickly marked their territory. I seem to attract the special ones, for these two 40 plus-ish couples laid out an air bed and started to give it a real pumping. It was extremely annoying as it lasted more than 20 minutes. When a woman in their bed said in a hush voice that it's good enough, (thank god she felt a little embarassed) but the dick prick said he would rather continue since he already killed the mood for everyone. Loud enough for a few of us to hear anyway. They went on for another good 10 minutes of blowing before stopping.You thought it would end there? You are so wrong. They continued to toss around in their air bed, creating friction and noise. In the other corner, a snorer emerged. All my sheeps started running against the traffic. By then I was just wishing the sun would come up soon. This scenario would repeat itself in the mountains. 🙂
Morning came and we quickly packed up and went for breakfast. I ate a lot. Drank some water and took a dump. Lighten the load for the road, baby. My backpack has taken on an additional 10kg easily, for I was carrying 6 packs of rice and a big plastic bag of food for my group. Topped it with my 3 liter reservoir and I am so gonna get hell.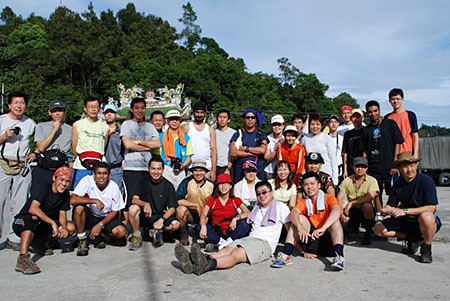 At 930am after the briefing by Botak Chin and group photo, we are all set to go. I chose a beaten up Land Rover Defender, with faded POLIS on it's side doors. Sweet. We flagged off about 10am with us trailing in second place. If you have been to Cameron Highlands, you would see the old four wheel drives, races up and down the slopes. Our diesel friendly driver had the air huffed and puffed at us carelessly and roughly. It felt great. I stood on my feet the whole journey.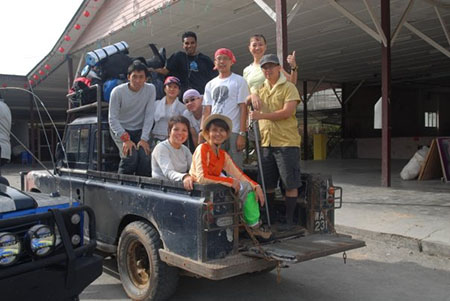 First reason : I don't get to ride on the back of a speeding 4wd in the mountains that often.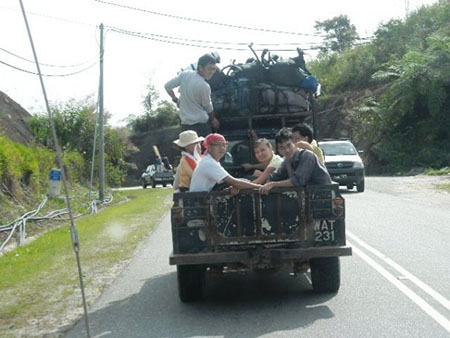 Second being that my scrawny ass hurts everytime our ride hits a rough spot.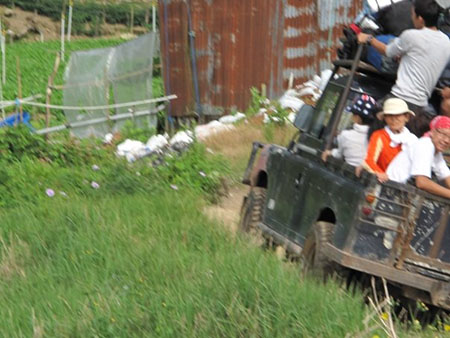 Third, it's much more fun! Whee…

We lumbered past the vegetable farm, setting sights on tomatoes and beautiful cabbages. There were a number of times that I thought we would flip over, or I get thrown out of the car and onto the greens. Thrilling ride really. I was more worried about our backpacks on the car roof instead. A bottle of 100plus had fell out earlier spilling its mildly sweet sticky content all over the road echoed by ooo's and aaa's.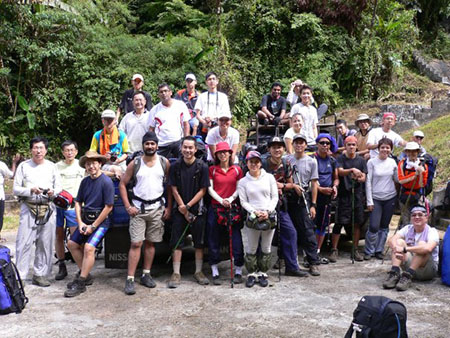 Another group photo before the long hike. This time I am sitting on the car roof.
The start of the journey was a long flight of steep stairs. The first 5 minutes gave me a taste of what is in store for me for the 6 hours ahead. My backpack was just too heavy and I trudged up the stairs, visibly straining under the mercy of my load. It was really bad. 15 minutes later I stopped and unpacked. I rearranged my stuff. The food went lower in my bag, making sure it's about my waist level. Rested a while before giving my group the thumbs up. Slightly better. The shoulder strap has already begun to sink it's teeth on my left. Nothing much I can do but soldier on. The first hour and the half was not enjoyable. We had to balance ourselves on PVC pipes, avoid soft, muddy, wet ground, that waits patiently to suck your whole ankle and calf in. The rotan plants made it worse. I never knew they had thorns that vicious. I had only tasted the lashes of the finished product often in my younger days.
We stopped at a river. Waited for the rest here. News came that a few of them had been stung by wasps. And it looks bad. One had the most, about a dozen and he needed a jab. Lucky for us, a doctor was in the group. He gave out some tablets and cream too. Good thing that T was resilient enough though he did feel the poison run through his veins. There were times that he was swaying a little. It worried us and he is the biggest guy in our group. He is strong and he persevered.
Crossed the river and it was an uphill and downhill task onwards. The hike took much longer because the trail requires us to go up and down so many times that after a few hours of hike, we only managed perhaps few hundred meters above sea level. Yong Belar is 2181 meter. We were tired rested quite a number of times. Some jokes did help lighten the mood. No grouchy ones here, so it was good. I hate those.
We hit our secret base camp around 5. It's a new place. We were told not to divulge the coordinates or location earlier in the briefing. No posting of it anywhere. It was because some previous camp sites have been badly cannibalized by other people. Overcrowded. Leaving rubbish everywhere. Tudung Periuk, the usual camp site was a good example. The rubbish was in a heap up to my knees and growing. Some dumb fags brought melamine plates and ceramic mug and decided to hide beneath some roots. Big packets of unused rice hangs on the trees. Empty blue cylinders strewn in some bushes amongst some burnt rubber. Batteries. Food wrappers. The worst perhaps are buried food because it attracts ants and they will burrow to get to it. And with constant food supplies nearby, the whole camping ground would be infested by ants. There is no way to get rid of them, apart from abandoning the site for around ten years plus. They said it was not selfish, because they did share before and had seen the place went to shame and hated the irresponsibility. Fine by me.
Since it's a new site, we had to weaved through heavy vegetation, hacking past plants, trees, rotans and more trees. Some trees were dead and hollow. Be careful where you lean against. Finally we saw it across the river. We huddled together and chose a spot for ourselves. We had a nice flytent and groundsheet enough for the three of us. Alas, it was not meant to be. To my horror, we appear to have gotten a last minute tent mate. What the hell. Honestly the camping ground here is damp and soft. Roots everywhere. It's not flat ground. Yes it was unhabited but that does not make it a good camping site. I chose the far side of the tent, the edge really. The side where when it rains, I would be literally fucked. And I was fucked on both nights back to back for those who might be interested.
Wait… do you know what is a fly tent?
From Wikipedia:
A fly refers to the outer layer of a tent or to a piece of material which is strung up using rope as a minimalist, stand-alone shelter. In basic terms, a fly is a tent without walls. Since the advent of water-proof materials a fly is unnecessary as an outer layer to the tent. Purpose-made stand-alone flies are also sometimes referred to as bivouacs, bivvies, tarpaulins, or hootchies. Flies are generally used for keeping moisture (such as condensation or rain) or sun off people while they eat, rest or sleep. They can also be used as groundsheets, but this is not recommended since it creates wear and tear which can lead to holes.

A stand-alone fly is a multi-purpose tool and is very flexible. For example, a fly can be put up in a wide variety of shapes depending on the environment and the weather, whereas a tent usually has a pre-set configuration for its structure which can be adjusted somewhat but not substantially. A fly also has the advantage of being particularly light and portable.

Disadvantages of flies include that a person is still exposed to the elements such as mosquitoes and cold weather and that it can be difficult to put a fly up if there are limited natural vertical structures such as trees in the camping area.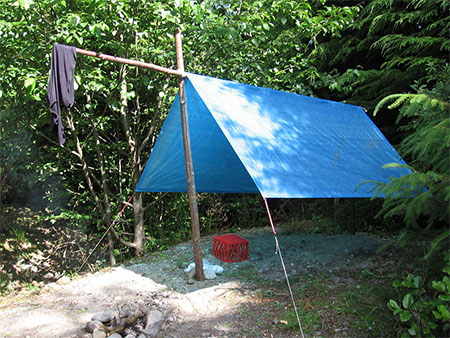 Our tent was tied to trees instead of to the ground. So it was just a roof. When I meant I was fucked, I meant it in a good way. Just to experience it. I was kind of hoping it to happen anyway, that was why I chose the side. Sleeping in a fly tent is good, apart from the sand flies of course. The ventilation is good, unlike being in a tent. I was sleeping out in the open. No, I did not think about what if wild boars came, brown bears, tiger. monkeys, wild dogs, snakes, leeches, Big Foot, mawas, terung, tembikai, kakak tua, etc. It did not cross my mind. If it did happen, there are others around me too. My chance was about 1/7. Since we do not have much space at our forsaken site, each of us had rocks, roots and elbows with no room to shift around. Simon though, our resident snore guy, manages to catch some 30 winks every night. We laughed at him earlier because he was sleeping beside a swamp. A hole that keeps filling up with water no matter what we did. We were like sleeping on cold wet mashed potato. And I kept sliding down due to the uneven ground.
To be continued.