This is definitely a very different concept of playground to have around our neighborhood. Which I deem impossible, with all the numbers of vandals present. Everything would be gone.
Anyway that aside, am here to show you the Mobius® Climber, one of the product conceived by Landscape Structures. As the name implies, it has a lot do with climbing, yet again. Hyper kids would enjoy themselves on these. Before anyone says "So dangerous", I beg to differ. Don't be overprotective, for this case. I don't think falling and knocking and getting scrapes and burns will leave a huge physical or psychological scar on them, kids. It's part of growing up. Younger years spending running around, wading in thigh deep deserted lake, going into rubber estates and oil palm estates, abandoned fields or climbing and jumping off waterfalls and slides have proven to be a fun experience for me. Sad that I can't climb trees, jump into rivers or any other things with my friends like my dad and his friends did. But I do think I am still doing better than kids who spend hours in front of video games and computers refusing to budge and get some evening sun. Am wishing that I could get my daily dose of evening sun… for when we get off work it would be 630pm.
Ain't it cool.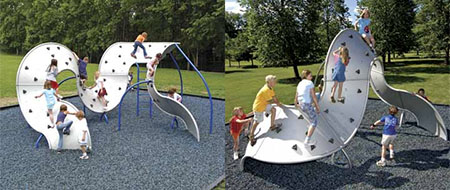 12-Panel and a 7-Panel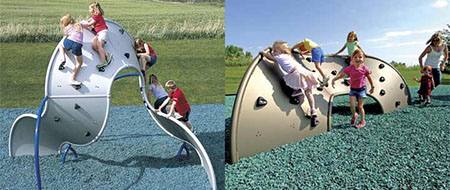 6-Panel and 3-Panel
Here's what Landscape Structures have to say for themselves.
A wonderfully wavy way to set your playground apart

There's nothing else quite like our wonderfully wavy Mobius® climbers. Kids love climbing up, down, over and under as they test their strength and agility, and invent limitness new games. And our artful, anodized aluminum panels bring a unique asthestic to any play area. Easy to install and virtually maintenance free, there's squiggly configuration options to fit every site and age group.

Mobius handholds are easy to grip at all angles for added safety

The Mobius climber is so much fun, we couldn't design just one. We offer four models to fit your budget and site: three-panel, six-panel (shown left), seven-panel and an eye-popping twelve-panel that will amaze adults and kids alike. These climbers provide a wide variety for everyone!

This exciting new climber celebrates the art of play. It helps kids:
• Build gross motor skills
• Build upper-body strength
• Increase hand-eye coordination
• Improve balance
• Develop thinking skills
• Give their imagination a workout
Sweet.
Check out their website and you will find many other playground system and ideas.
Visit Landscape Structures
On one of my trips back home, the playground I spent many hours when I was a kid looks like a war field to me. It was the invasion of (illegal) immigrants. Huge groups. Playing the world's famous game. Marbles. Haha… hell no… football la… what else. No blood was spilt. Just sweat and saliva. I don't go there anymore.