So more than half a month has gone by and I am starting to get to know the Samsung i450 better. Everyday I get to learn some new applications or functions thats hidden here and there. No, I don't read the manual. Yet. It's more like learning through experience. When am really stuck…there's the internet.
Let me go through the ones that I use the most. That would be the basic functions, calling, messaging, listening to music, taking photos and jotting down to-do notes.
Since I got this phone, I have been making loads of calls and it shows. My phone bill this month has already exceeded the RM200 mark. Wow. My record so far. And let's hope it stays uncontested for days to come.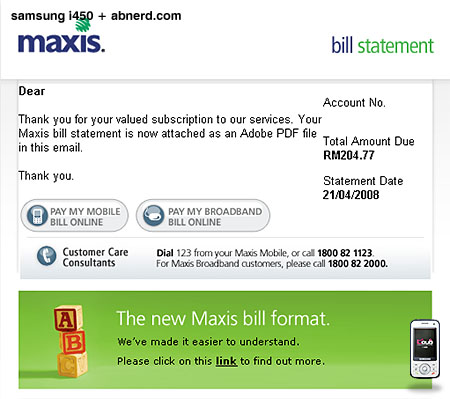 When I make a call, the reception on my side is apparently quite clear and no disruption. Unfortunately that was not the case on the other side of the conversation. My mum especially was quick to point out the flaw, but I was doubtful at first cos older people… hearing not so good… *sorry mum* But when my brother and friends too complained about the breakage and disruptions, I was convinced. Tried plugging in the handsfree set but it was the same. Any of you guys having that problem?
As for the messaging, it needed a little bit of getting used to. After 2 years churning out smses on my SE K700i, having a different messaging system to explore was fun. I liked the fact that I get to "Add Recipient" before I start texting. This would prevent from sending a message to the wrong person. With Predictive Text @ T9 turned on, it was a breeze. The * and # made my life easier too with their extra functions. Even more cooler was the Copy, Cut and Paste function.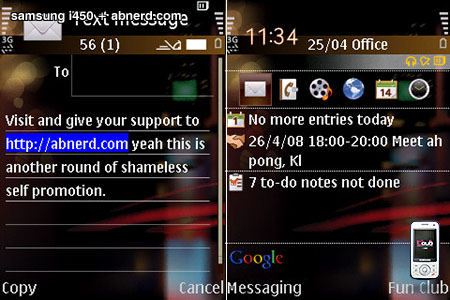 I never played with those before, and now I send contact numbers or web address by just copying and pasting. No more retyping. Sending a message while driving is a bit more difficult and the flat keypad makes it harder. Being a lousy multitasker, I try not to reply any smses when I am driving. And luckily no "mata-mata" has caught me in the act. Have just sent out an Audio Message, do not know if it works. I sounded funny.
I am using the To-Do Notes extensively. Currently I have 7 things I need to complete. Top in the list is to train and get a mean core muscle. Haha… Others are meetings, appointments and things to settle. Had the habit to list them down so I don't have to keep remembering them. Details are displayed in one single interface unlike my old phone. I like it. Much much.

I really dig the dual slider design. The horizontal interface of the player is amazing. The sound quality is no doubt excellent. It's like having my own compact Bang & Olufsen in hand. Scrolling through my songs with the touch control is totally rad. Songs are sorted in different categories and I could choose to play them All at once or by Albums, Artists, Genres. Heck, I could be my own DJ and create my own playlist. I take the LRT everyday so I am pumping the i450 to and from work. For now, I have abandoned my 512Mb MP3 player. Poor fellow collecting dust. Can't blame me because with a 1Gb MiniSD card, I could load in so many songs. Yesterday a guy on the street thought I was using an iPod or something. I don't know about you all, but I can watch movies, read PDF, make calls, send messages, get organized, listen to songs and much more with my i450. FM radio reception is good and now I can listen to it in my office too, for those prank calls, fix its and gender discussions. Haha…
The camera function does not match the other functions though. It's a known fact that the 2.0 Megapixel camera get their ass whooped by their other 2.0 peers. But I am not disappointed for my old phone photo quality is even worse. Haha… so not much complain from me. And I can save it to my MicroSD card makes it way better. My solution to make my photo sessions much more fun and exciting… let me show you.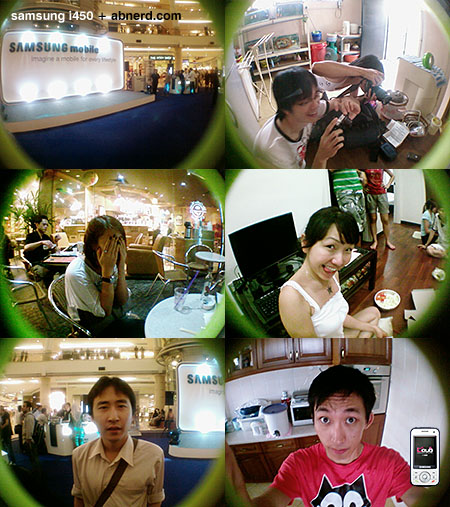 Yup, I got a LOMO Fisheye filter imported from Japan. Now even my reluctant friends have become willing participants. *wink*
Yeah, the 3G video quality is affected. It's bad. I look like I got run over by several army trucks. *roll eyes* Nothing I can do.
I am also using a lot of their Organizers function. Under the Clock, I can set a quick alarm. For the past few days I was setting it every night before I went to sleep. Was actually not too happy with it because my old phone has a function where I can set alarms for my working days. To my surprise, while commuting back home last Wednesday I found out that the Samsung i450's Alarm function provides all these and I can even set several alarms with different Repeat selection. For now, it's only 2… one to wake up to go to work every weekday and the other is to get me to sleep daily.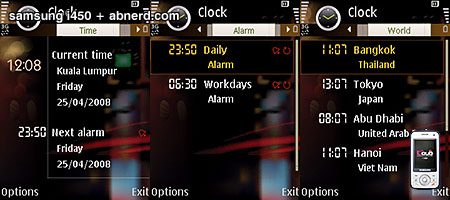 The last one, is World Clock. For kicks, I set several time display which are Bangkok, Tokyo, Taipei, Hanoi, London and Abu Dhabi. Abu Dhabi because Sponkers is there. Er… actually he is in Qatar but since I can't find it, I just chose Abu Dhabi. This time next month I will be using the Bangkok time. Aaa… can't wait.
Honestly, this is just the tip of the iceberg. I have not even tried their S60 Platform. Will share what other features I use before I burrow into the abyss. Haha…
Damn. My audio message failed to send. Mmm… who else for me to test it with.