Marched to work on Monday while greeting those in sight with an uplifting mood. A week off to an island with beautiful sun, sand, sea and magnificent limestone formation littered with colorful people, swinging melodies, grubs that carve a curve and little mammals from lazy dogs to hyperactive squirrels, have this effect on me. Sorry that I drifted away.
*Rewind*
Yes… as I was taking the third last step through the glass door my receptionist stopped me. I think I saw a twinkle in her eyes. She heaved and quite effortlessly produced an oblong package handsomely double wrapped in white plastic. It took me a second to register the object placed before me. It's the redemption gift. According to her, it had been waiting obediently for me since Wednesday… Wednesday afternoon… while I was away sweating in a harness doing a 6A+ climb, maybe. Enough of that. Am doing my detour from my post again. I think I need some extra weight to hold me down. So that roots can once again wrestles the loose earth beneath my feet and struggles to grapple anything to pull me back down… or at least keep me down.
Redemption gift. A nylon tent. A 2 men tent. A blue nylon 2 men tent. Was not expecting it to reach my office that soon. It had been only a week the most… according to the website it was due only in around 30-40 days… ha… could not care less… it's finally here. I left it in the office yesterday night… I had to do some shopping after work so it was a bit crazy to waddle through racks of clothing and stationeries while lugging a bag and tent.
Finally brought it back just now and here are some mindless photos. Visuals.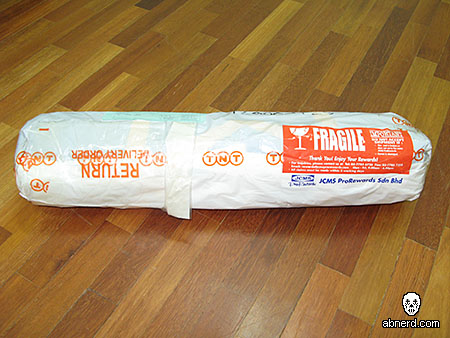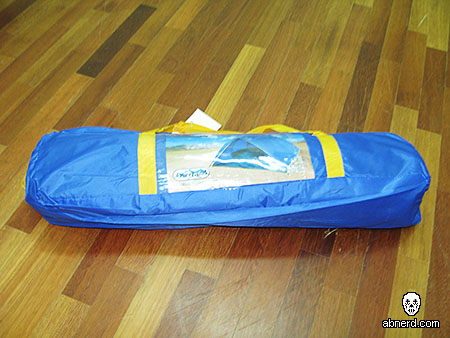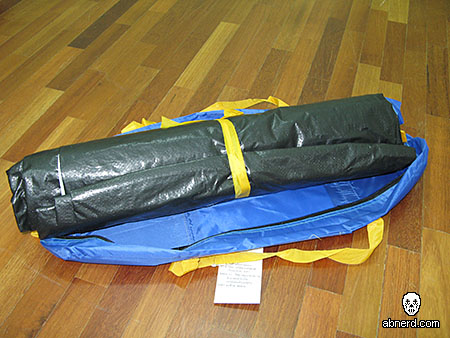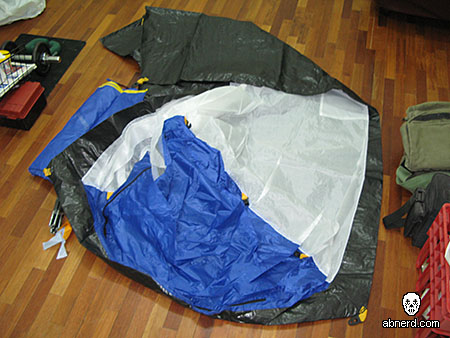 The mess that came before a camp. I was having some trouble setting it up. This was the time I was looking for the manual. Where is the fucking manual when one needs it? Guess the picture on the carrier bag was worth a thousand words or the assumption that everyone who gets a tent knows how to set it up. The survival skill. The flakes of Rambo in me was trying to hide the laughter. I was a little frustrated figuring where the fibre poles are supposed to go. Finally I spread it flat on the floor and yeah… I can see where each of the skeletal frame should go. I started pitching at 9.50pm and completed it at 10.15pm. Not bad for my own standard. I half expected to complete it with disgust written on my face while droplets of water+ammonia+urea+ sugar+salt form above the brow. Bet I could do it faster the next time. Taking it down and packing it back was easy, just like folding my blanket, a thing I do every morning. Practice. Perfect.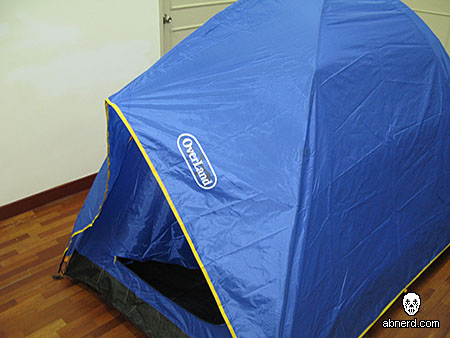 Now, to wait for the weather to take a turn for the better. My last camping… if one could call it that, was back in primary school, on school compound, sleeping on stretcher beds along with 50 plus boys I think, while the girls get to use the classrooms. For me, getting a piss and dump outdoors is good. It beats having to haul your ass to the school toilet. The primary school toilet in the Standard One and Standard Two area creeps me out. Certain school toilets does that to me. They have that haunting feeling… I can still feel it if I dwell deep enough. I think I only did my big business in school toilets especially primary ones, less than 10 times. That's what I can remember. Actually I can only remember only once. Yes, we went in pairs, sometimes even more than that and we usually ran back to join the crowds without looking back. The little girls back then always manage to flood the boys toilets with their tissues and pads. Guess they took the opportunity of camping to wreak havoc in the boys urinal territory. Tip toeing in for a piss still get your canvas shoes wet. Wonder if I ever heard Moaning Martyle giggling behind closed doors. Geez.
Alas, my RM50 voucher is missing. Have to give the credit card company a call again.