Headed over to Paddington House of Pancakes for dinner before going for the free screening of Across the Universe yesterday night. The meal at Paddington was scrumptious. Used the Mystyle voucher and it came free with a complimentary pancake. The people there will give you a list and you choose either a savoury or sweet. Asked the waitress to recommend and she asked us to go for the Pot of Gold. It's mini pancakes topped with an ice-cream, laced with melted chocolate syrup and sprinkled with crunchy nut bits. Maple syrup are optional. It came first and we chomped delightfully on it. Our dessert cum appetizer haha… it was a taste of what will come next.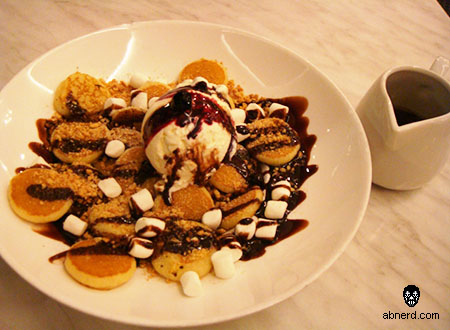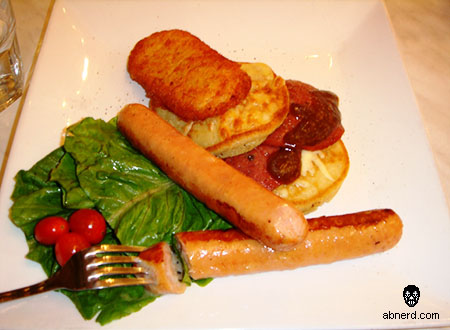 The next dish, the Double Gourmet Sausage came right after we finished our Pot of Gold… with a lapse moment just enough for us to get some liquid down. Two huge chicken cheese sausage, two beef salami, hashbrown, three cherry tomatoes, fresh lettuce layered on top of two lightly cheese-spreaded pancakes. Again, the pancakes were just the size of McMuffin. I initially thought it won't be enough to satisfy both of our tummy but I was proven wrong. The sausage… mmm… was delicious with cheese oozing at knife point. The salami paired well with the pancake as it was a tad salty. The green vege and mini tomatoes gave the whole dish a beautiful colour and added a cool bite to the otherwise hot meaty dish. We practically cleaned the plate. We paid RM33.83 inclusive of a Iced Lemon Tea, warm water and tax. Oh the complimentary Pot of Gold was worth RM10.50. Hurried over to the cinema to catch Across the Universe.
Warning No Spoiler ahead.
Personally the movie is great. I loved it. I shall not elaborate on it but I am certain that many would think otherwise. For a free screening the crowd was not encouraging, many empty seats and quite a number left during mid movie according to my gf who was paying attention to the people behind rather than the movie. Yes, she is one of them who think the movie is crap. Luckily I met a fellow climber who shared the same boat as me. Both of us agreed it was cun melecun and would be getting the DVD version of it when it comes out. It kind of renewed my love for the composition of John Lennon and Paul McCartney and the different versions of the songs sung gives a different sound. Loads of things to look out for if you enjoy the movie. Shall stop here for now so as not to spoil the fun for those of you who plan to watch it.
Yes, my skeptical ass has been kicked hard.