Watch out for spinning quadruple sidekicks and non-stop kicking and punching actions. But rest assure that there will not be any gory bloody fight scenes as it's an animated Hollywood martial arts movie. And Jackie Chan plays a monkey. Master Monkey, mind you.
Needless to say it's set in ancient China and the characters comes in the form of panda, tiger, crane, praying mantis, snake… rhino, tortoise and goose too. Jack Black will be the man behind the "chosen one" and Jackie Chan, Dustin Hoffman, Angelina Jolie and Lucy Liu are among the voice talents. There are not much information on Kung Fu Panda yet… but the teaser trailer is expected to be shown alongside the screening of Bee Movie on 2nd November 2007. One thing that you can expect from Jack Black is that there will be laughters and occasional tears.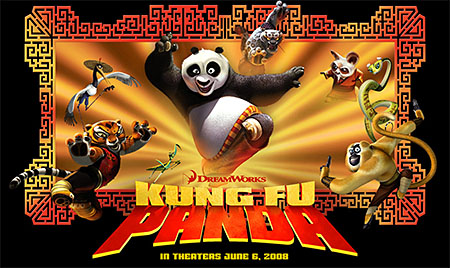 The artwork of the movie looks great and intriguing. Honestly, I caught a glimpse of the key art and it's makes me wanting to jump up and kick the ceiling board. Duh…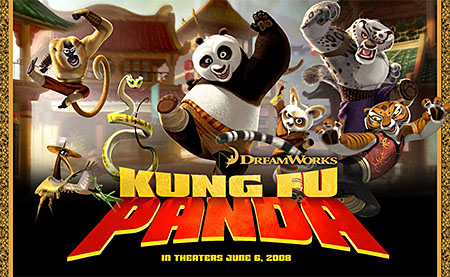 Save this as a wallpaper or to have a closer look at the details. It's from MovieWallPapers.net
It's expected to be a summer blockbuster movie for 2008 so go meditate in a cave for a while.